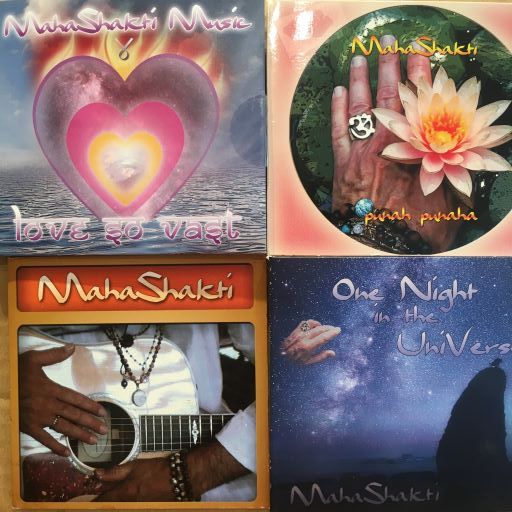 To order Love So Vast or other MahaShakti Music CDs,
By mail: $15.00 per cd plus $3.50 shipping: $18.50
Door Drop in Modesto: $15.00
3 or more cds by mail to a single address, $15.00 per cd, no shipping. 
Payment by Venmo @Timothy-Lechuga Payment by Paypal: @TimLechuga
Also exclusively available at Beads of Contentment Soul Beads, 1028 J St Modesto.
 Email for other requests at mahashakti108@yahoo.com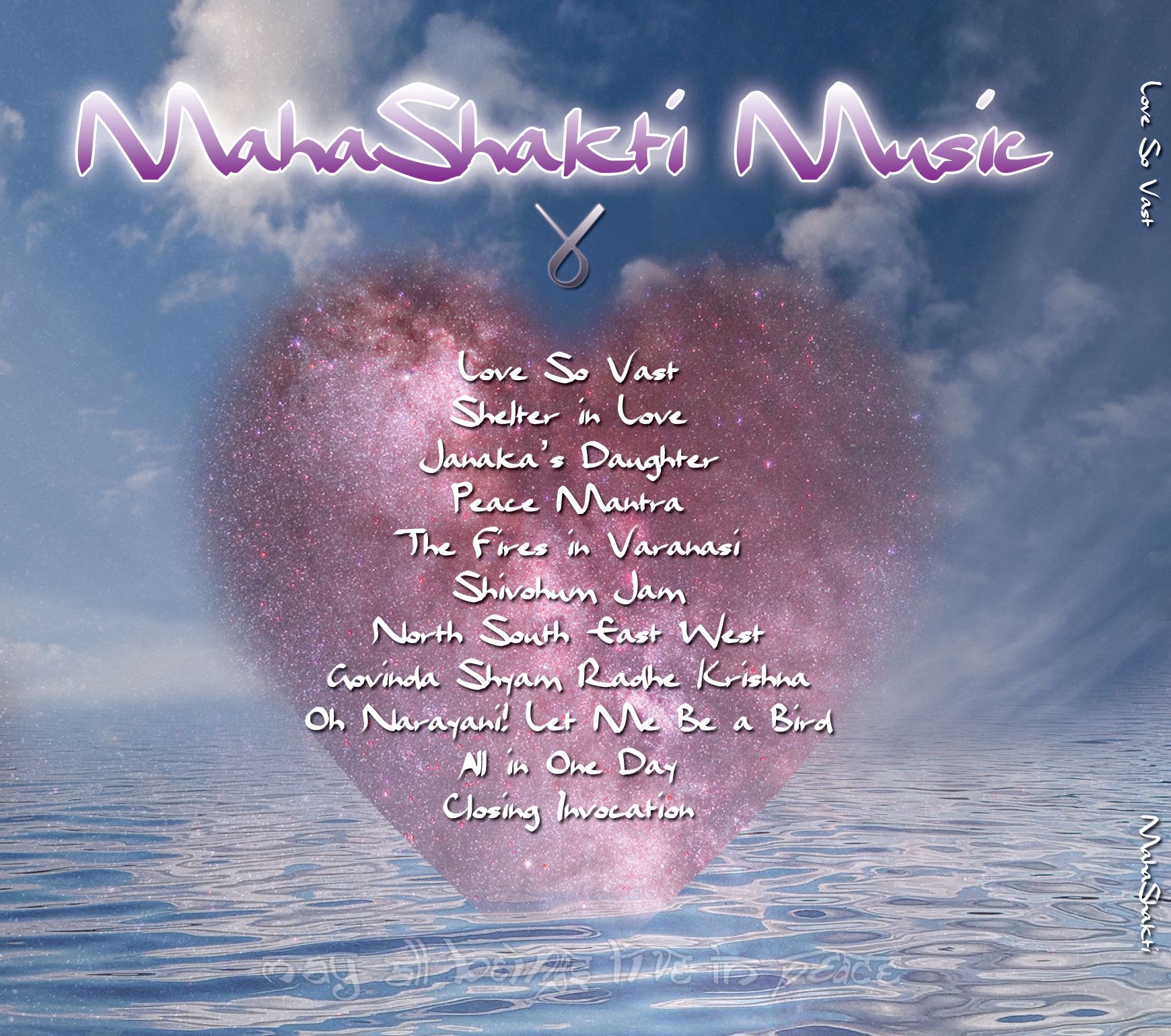 The New Album "Love So Vast" has arrived, a parting gift to 2020: Songs include:  Love So Vast,  Shelter in Love, Janaka's Daughter, Peace Mantra, Fires In Varanasi, Shivoham Jam, North South East West, Govinda Shyam Radhe Krishna, Oh Narayani Let Me Be A Bird!, All In One Day, Closing Invocation    
About the Songs
....
The seeds for the new album,
Love So Vast
, were sown while traveling the world.
The song:
North South East West
  includes a Hari Om mantra, the melody and english lyrics sprouted during trips to Vietnam, Cambodia, India, Nepal, Egypt, and Jordan. A shared sacred vibration resides in the hearts of people around the world; this song began to express itself in all these places, and everywhere felt like being home.   
The song:
In contrast-
Shelter in Love
- incorporates an Om Namah Shivaya mantra, and is the last song written for the album; it took root as the world began sheltering in place. In spite of our shared physical restrictions, the feeling of being connected with every one never disappeared. The mantra held the space.  
The song:
Love So Vast
borrows lyrics from the mystic Islamic poet Rumi and marries them in song with a Sanskrit mantra that honors ancient guru lineage. Before this made it on the album, I sang it a'capella to H.H. Sri Sri Ravi Shankar during darshan. After he told me I looked like an Arabian King, he gave the song his blessing with a "thumbs up".
The song:

Janaka's Daughter
is a tribute the treasure in my life- She, who is the flame on the candle that illuminates my heart. My Path is lit by her smile.
The song: The Peace Mantra
, what can be said? May all beings know peace- may all beings be happy and free, may my thoughts words and deeds contribute in some way to making it so!
The song:

The Fires In Varanasi
 incorporates a Shiva mantra, and is a tribute to Shiva's city- and to a night trip down the holy river Ganga-  Sacred funeral pyres have burned along the shore for centuries, performing the last rites as we drop our earthly shell.
The song:
Shivoham Jam
; This mantra (Shivoham Shivoham) appears as a deep "sit-down-and-meditate" chant on the MahaShakti album One Night In the UniVerse; here it is treated to a lively arrangement made for celebration, moving, and dancing! 
The song:

Govinda Shyam Radhe Krishna
is a joyful dance arrangement of the popular Art Of Living bhajan! This bhajan lights up any kirtan!
The song:

Oh Narayani- Let Me Be a Bird 
is humbly dedicated and surrendered as I bow at the feet of the Divine Shakti, the ethereal manifested and unmanifested Devis; to the Mother, protector, our first guru, teacher to us all- I offer my love and devotion.  
The song: 
All In One Day
 is inspired by the simple yet deeply profound mantra: tat tvam asi.  Realize the quiet inner beauty that we all share and the love that is our true nature. We are limitless, eternal, infinite beings connected by a common thread of consciousness. Know that- all in one day- and always- your are that- tat tvam asi.
Karpuura-Gauram Karunna-Avataaram;  a mantra to chant and be in wonder about!
             I'm grateful to be sharing this lifetime together with you.
                 Namaste; I bow to our shared divinity.    Love,  Tim  
Purchase of cds directly from Tim are available at performances and by mail;  funds generated go directly to the musicians that make these sacred recordings possible! To request cds, email a request to mahashakti108@yahoo.com
In addition, some of MahaShakti Music can be found by searching Tim Lechuga MahaShakti Music on Spotify, youtube, and i-tunes.
Thank you for supporting the arts!